| | |
| --- | --- |
| | Thank you for helping horses, donkeys and other animals here at Creekside. |
****** We do have horses and donkeys available for adoption at this time (Oct 2012). Please go to their page (left on the side bar) to find their infomation ******
******** As of 7/31/10 our mailing address will change too
PO Box 117801
Carrollton, TX 75011 *******
Twiglet 18 days old born at this rescue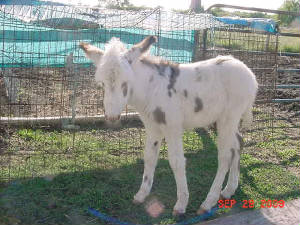 Nudge day 1
**************************************************************
*****************INFO HELP ******************
Do you have an older horse, hard keeper horse or a rescued starved horse? Want to know a proven way to help put on weight and maintain that weight? Have you ever heard of the feed "One and Only" made by Wendlands Feeds. It's the only free choice (meaning feed as much as you want any time you want) feed on the market that we know of. We have pictures at the bottom of this page of before and after and pictures in our "Before and After page) to show you what this food has done for the horses that have come thru our gates starved and in need. ANY HORSE can eat this feed, regardless of how "Toothless" they may be. Don't let your old friend suffer because you don't know how to help him in his later days. Give us a call or drop us an email and we will be happy to refer you to a store that sells this. No body endorses us, or pays us to tell you about this feed, we do this freely and willing because this feed W O R K'S.
Dribble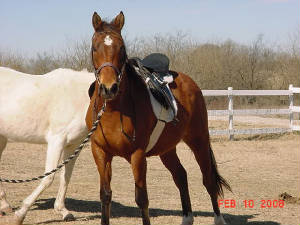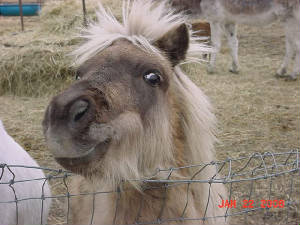 *************************************************************************
Dollar the horse in these two pictures, came to the rescue May 3rd 07 he lived with us for 45 days then he quietly passed away in his stall.He was the victim of starvation and neglect,and he was only around 9 months old. Some times by the time a equine reaches our gates its too late, we do all we can to make their last days on earth as peaceful and filled with as much love as we can give.
HELP ME PLEASE My name is "Dollar"
......................................................................
Madison was purposely starved and ended up in the condition you see in the pictures. She packed on weight and received lots of TLC, and returned to good health. She past away almost 3 years later from colic. Her life was cut short by several years because of her starvation.
MADISON ..... Starved mare
ARE SORRY IF THE PICTURES ON THIS PAGE ARE UPSETTING TO YOU.



A starved equine is not pleasant to look at, but we want you to see reality for what it is. This is what we work with. Most equine are not healthy or happy when they first arrive here, we jump into action right away and start on the healing process of mind and body. That boils down to, 98% of the equine that come through our gates are in need of medical attention and rehabilitation, this is very expensive. This can take months or even years.

..........................................................

This is where you can help, by donating some thing, even a little some thing can go a long way.Be it your time, talents, or what whichever way you feel you can help .

.........................................................

We opened our gates in 2001. We have had over 70 equine be cared for during that time. With an average of 25 here at any given time.

..........................................................



MR. MUDPIE ....



A 34 year old gelding with no back teeth, he cannot eat hay or grass, don't let anyone tell you an older horse is always skinny, these pictures will prove how wrong that is.. he came here in 2005 as a 31 year old, and looks and acts much younger than his now 34 years.